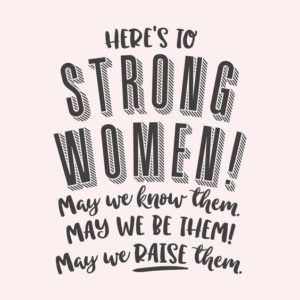 From the moment I was born, I have never had a lack of strong female role models in my life. I have always been surrounded by confident and amazing women since before I can even remember. I never thought that this was a big deal until I realized how absolutely blessed I am to have a diverse and amazing group of females to look up to.
I have met girls who I adore dearly but don't have some of the fundamental values and beliefs that have been instilled in me since I was a girl. I always wondered what the difference was then one day I recognized the fact that they didn't have any role model to confide in, to talk to, to learn from. From that moment on, I have never taken my family life as anything less than an absolute blessing. I have been blessed to have women who are driven, determined, kind, and supportive in my life. Women that have been models of confidence, hard work, and love.
I have learned so much from all of my aunts, cousins, and mom. They are all so extremely different yet so intrinsically similar. My Aunt Ingie is the most generous and kind-hearted person I have ever met in my life. My Aunt Kari is so wildly confident and welcoming to everyone she meets. My mom is by far the most determined and hardworking person I know. I could make books of all the lessons I have learned from my many different female family members.
To all of them, I say thank you so much for your gifts.
What is so incredibly amazing about all these women is that they are so supportive and uplifting of each other. They are all have such separate ways of life but completely lift each other up. It goes to show that even when you aren't the exact same as the girl next to you that you can still be rooting for them. You are not losing out on any of your own success by being supportive of another girl finding her own. This should be a way of life for all girls in the world. Even in the hard times and the ugly fights, to never drag another person down is the strongest thing you can do.
I know that I am so incredibly lucky to be born into a family with amazing and strong women. I am eternally grateful because not everybody gets that same gift. If you don't, I challenge you to create that group for yourself. Surround yourself with strong women; read about them, watch them, learn from them, find them. If you already have them in your life, thank them for all that they have taught you.
There is something magical about a strong badass woman. Surround yourself with them. Be one of them.