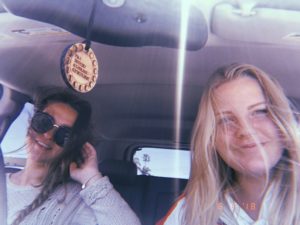 Last month was my baby sister's 16th birthday. My oh my does time fly. I'm not one to generally complain about feeling old but this makes me feel ridiculously old.
Although Mia is one of the absolute sassiest people I have ever met, I am so incredibly grateful to have her in my life. She is one of the only people who can make me go from wanting to slap her to laughing with her in the span of 10 minutes. It's all from love though… 
Having a little sister is truly a gift and I wouldn't trade it in for the world. There are many things that I have learned to love and adore about having one…
Someone to always have there
Having a sister means having someone you can call all the time. At least in my case it is, even if she's only calling to complain about walking up a hill. She literally calls me all the time when she's walking up a damn hill because she wants someone to complain to or to distract her?!? I don't know, beats me. But I know that she knows she can call me whenever she needs me and vice versa. No matter how big the hill.
They Hold You Accountable
Even when she doesn't even know or think she is, Mia is always holding me accountable of my actions. I always want to be a good role model for her and I want to be someone that she is proud to have as an older sister. I find myself in thinking a lot, "am I setting a good example?", which is actually kind of a reality check to if I am doing or acting in a way that I believe in. 
You Get to See How Your Clothes Look on Other People…
Even when they don't ask… Apparently having a sister means having a second wardrobe??? Or having half a wardrobe because your clothes are always missing???
You learn patience
Or you could say you are constantly in the process of learning patience. Mia and I are different in a lot of ways which means that we easily disagree. There is definitely some fights and a lot of growing throughout the years. I've learned to be patient and to listen. Because a lot of the time we both mean the best but there is just bad communication. Or she's just plain wrong and I have to be patient and wait till she's older to bring back the good old days of when she was really annoying. Either way, we have learned to be calmer and listen to each other instead of freak out. 
You grow together
This is kind of the coolest part about life in general that you get to constantly be growing and seeing those around you grow. Having a little sister is so awesome because I get to see her go through what I've been through in life already but it's her own unique experience. High school, getting her license, making friends,etc.While she gets to watch me go through crazy stuff that comes with growing up too. You know, like figuring out the what I am going to do with my life and living on my own! We are both constantly learning and shifting into different people. We get to do that together but in different places and at different points in our lives.
So yeah. Having a lil sis is pretty rad and I am eternally grateful. I love you forever mia. Thank you for being the biggest diva I know.