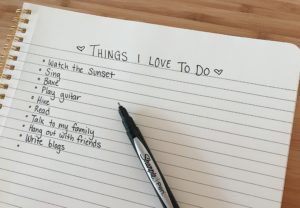 Okay, so yesterday I read the a simple yet amazing piece of advice when I was browsing through some of my favorite websites! I wish that I bookmarked the page so that I could give credit to whoever it was but I do know that it either came from Sporteluxe or Well + Good.
The idea was to take the time to create a list of at least 10 things you love to do and then to make it a point to do at least 3 of them a day. That can't be that hard can it? Imagine how amazing your life would be if you made sure you were filling a few portions of your day with things you loved to do!
Once I started my list it ended up being like 20 things ranging from watching the sunset to just singing. I think it is actually really smart to have an incredibly versatile list filled with some tasks that are easy to make time for like drinking a coffee and ones that take a bit more planning such as hiking. The whole point is to make sure you do at least three things off of your list that you love to do every single day! You can plan your day around them or you can fit them into your free time. The choice is yours.
I just found this and was going to test it out then share my results after a week but I got too excited and wanted to share it. So I am just as new to this idea as you may be but I believe a lot of good can come from it. It was so amazing to me that once I started writing my list I realized how many things I love to do and how easy a lot of them are to accomplish throughout the day.
So I wanted to create a little challenge for you! Take the time to write out a list of a variety of things you love to do. It can be 10 things or a 100 things. Spend a week making sure you do at least 3 of them every single day! I'll be spending the next week doing the same thing. The point is to take the time to fill your life with things you truly love to do and that make you happy. It is so easy to get caught up in the day to day requirements like school and work. You deserve the time it takes to accomplish this!
If you would like to share your experiences with this, I would love to hear about them in the comments or message me! No pressure! My main hope is that whether you post or not that this impacts your life in a positive way!