My whole life I have either lived in Hawaii or California and even though they are about 2,467 miles apart they have a lot in common. One major similarity between the two states is the beach and beach life. I love the beach and am so blessed to have been able to grow up so close to it!
This week my friend Gianna was in town so we spent some time at the best beaches San Diego has to offer. On our way there I decided that it might be fun to share a few things that I always pack in my beach bag to make the most of my day in the sun.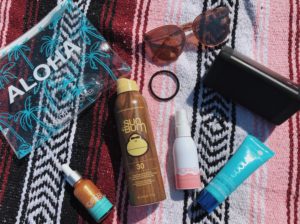 First off I like to always have a little bag of goodies! This one included…
Coola Face sunscreen (Important!!!)

Hair Ties

Sunglasses

Sun Bum Sunscreen

Chapstick

Speaker

Kopari Coconut Body Glow

Kopari Coconut Rose Toner
I actually just got the Kopari products so they are new to my list. I loved bringing the toner because it was really refreshing to spritz on after being in the sun for a while. Gianna and I put on the body glow right before we left and it smelled delicious while also making us look even more sun kissed!
The other things I like to make sure I have with me at the beach are some snacks (we packed some berries and chips) and WATER! I cannot stress how important it is to bring water with you when you are laying out in the sun all day. I would always used to forget to bring some to the beach growing up and ended up having to rely on my friends stash to get me through the day! Always. Bring. Water. We also made some iced tea and packed it in a mason jar. Which ended up looking incredibly sketchy because of the color and led to a few people asking us if we were drinking beer. So maybe be a little more thoughtful when deciding your packaging on things! 
These things are pretty much what I take with me every time I go to the beach for the day. They all help me relax and enjoy my time at the beach! If you have any other must-haves you think I am missing, I would love to hear your advice!